I have another blog called NCAA lives here but I haven't posted much on it simply because I couldn't come up with enough sports topics so I haven't done much with it. One major issue I have is that I simply do not know enough about football/sports to have a blog solely dedicated to it. Instead, I've decided to sprinkle in what I will be calling "Football Friday". Maybe when football season is over, I will have "Monday Madness" for basketball or something along those lines.
First things first: fashion for today - Clemson has something called "Solid Orange Friday" where the fans should wear orange on friday to signify their devotion to Clemson. I even through in some purple bracelets so I feel extra spirited today!
why does this pic look so terrible :( - oh well, you get the point
For my first segment of Football Friday, I am going to discuss College Pick 'ems games. People love to gamble so there are always contests/games where you pick the winners for the games of the week. Living in the south, everyone wants to participate, even the girls, but it gets tricky when you don't know what's going on with each team. For example, LSU vs Oregon - Oregon is a pretty good team, but LSU is too
except
that LSU just lost their QB to some off the field issues, so will that hinder them, I don't know. But what I do know is that I will pick Oregon simply because I know their starting QB is sidelined! What if I don't know anything about that team? Their record last year, their history in general, how many starters are returning, etc etc? I've developed a system for all of you ladies so that you, too, can participate in the activities.
1. Colors
- so simple and I think most of us already do this. Which colors do we like the best? You could already know the colors, you may have to look them up, but once you can compare, simply pick the ones that you like best.
For example: (let's use one of the games this week which can easily be found on
ESPN
VS
I personally will pick Oregon because I prefer Green and Yellow to Purple and Gold (yes, that is supposed to be gold)
Pick taken care of - BAM
2. Location - one thing the south is proud of, being in the south. We will pledge allegiance to anything is it's based in the south.
For example:
OLE' MISS REBELS (University of Mississippi) (
source
)
*I chose this pic because it shows that yes, their mascot is a rebel and that's what he looks like
VS
You could go one of two ways, depending on your knowledge. Assuming you understand the SEC is a conference, it's one of the top conferences and Ole miss is in the conference, you could choose that way. Or Ole Miss is in the south - chosen - done
3. Who did your last crappy ex boyfriend pull for?
I think this is self explanatory and also a personal experience so it's hard to give examples. You always pick the team that is playing your ex boyfriend's fave team. Done
4. Last but not least, which mascot would win in a real life fight? I have thought a lot about this and it's actually one of my fav things ever and I have had this discussion with some boys about this so it's not that far off!!
First, let me cover a couple of ground rules:
1. It MUST be the school nickname and NOT the on the field mascot. So, it's Auburn Tigers, not Auburn War Eagle, It's Alabama Crimson Tide, not Alabama elephants, it's Tennessee Volunteers, not Tennessee's dog Smokey, etc.
2. We are assuming their weaponry is what is shown on the field. So, Chief Osceola from FSU will have his spear, the Trojan will have his sword, and we're assuming that all tropical weather is the worst it can get, category 5 hurricane (Miami), worst Cyclone that's gone through Iowa ever..
Ok, now that those rules are out of the way, for example: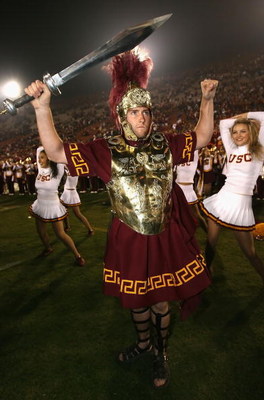 VS
MINNESOTA GOLDEN GOPHERS (
source
)
You may be wondering, why is Minnesota's mascot a gopher - that I cannot answer. But what I will say is that this isn't even a fair fight. USC hands down. Even without the sword, the gopher only has a slim chance
So ladies, I hope this helps. It may not be as scientific, but you'll find it works just as well. most of the time. maybe not for last night.